Throughout the growing cycle, we feed our salmon diets specially designed to meet these same nutritional needs but in a way that actively tries to minimise impact on the environment.
The raw materials for these specialist diets come primarily from two key sources: marine ingredients and plant-based ingredients.
Fishmeal and fish oil are the marine ingredients that provide the long-chain Omega-3s found to benefit human heart health, brain function and blood circulation.
In the wild, Atlantic salmon obtain these Omega-3s by eating smaller oily fish, whereas our farmed salmon are fed a combination of fishmeal and fish oil made from both:
Wild-caught fish
Typically,

species

that would not be fished in significant quantities for

human consumption

. These are sourced from producers certified to a minimum of the

MarinTrust Standard

 (formerly the IFFO RS Standard); a certification which enables producers of raw materials in the fishmeal and fish oil sectors to demonstrate responsible practice. This includes ensuring that marine ingredients are sourced from responsibly managed fisheries and that they are fully traceable.
Processing trimmings and by-products
For example, skin, flesh, viscera (internal organs) and blood from fish other than salmon, all of which are also sourced from MarinTrust Standard certified producers.
Amongst our next goals, when it comes to feed, is to obtain further external certification and source an even higher proportion of by-products from fish trimmings.
These can include cereals, oilseed crops and legumes, amongst others, all of which are certified non-GMO and originate from approved raw material suppliers under the Feed Materials Assurance Scheme (FEMAS). This ensures that they are approved as being safe for use in animal feed in the EU.
Another plant-based protein is soy protein concentrate which is sourced from ProTerra certified sustainable producers. This guarantees that a product or its ingredients have been produced responsibly – both environmentally and socially – and without the use of genetically modified crops or products.
Other essential nutrients
Beyond protein, Atlantic salmon also have a need for other essential vitamins and minerals. Our specialist feed suppliers put every effort into ensuring these micronutrients are sourced from equally safe and sustainable sources, using suppliers who are accredited by the Quality and Feed Safety Management System for Specialty Feed Ingredients (FAMI-QS).
Relying less on marine ingredients
In recent years, thanks to ongoing work with our specialist feed partners to produce high-performing diets that rely less on marine ingredients but still meet the nutritional needs of our fish, we achieved our lowest use of fishmeal and fish oil yet.
Across all fish diets administered in 2022 – freshwater, marine and Label Rouge – we used just 30% marine ingredients versus 70% plant-based and other sources.
Furthermore, 45% of these raw materials were sourced from within the UK, while all marine ingredients are independently certified by the MarinTrust Standard and/or the Marine Stewardship Council (MSC) as being responsibly sourced and responsibly produced.
How salmon farming compares
Salmon farming is considered to have one of the best feed-to-edible-meat ratios of all the farming sectors globally.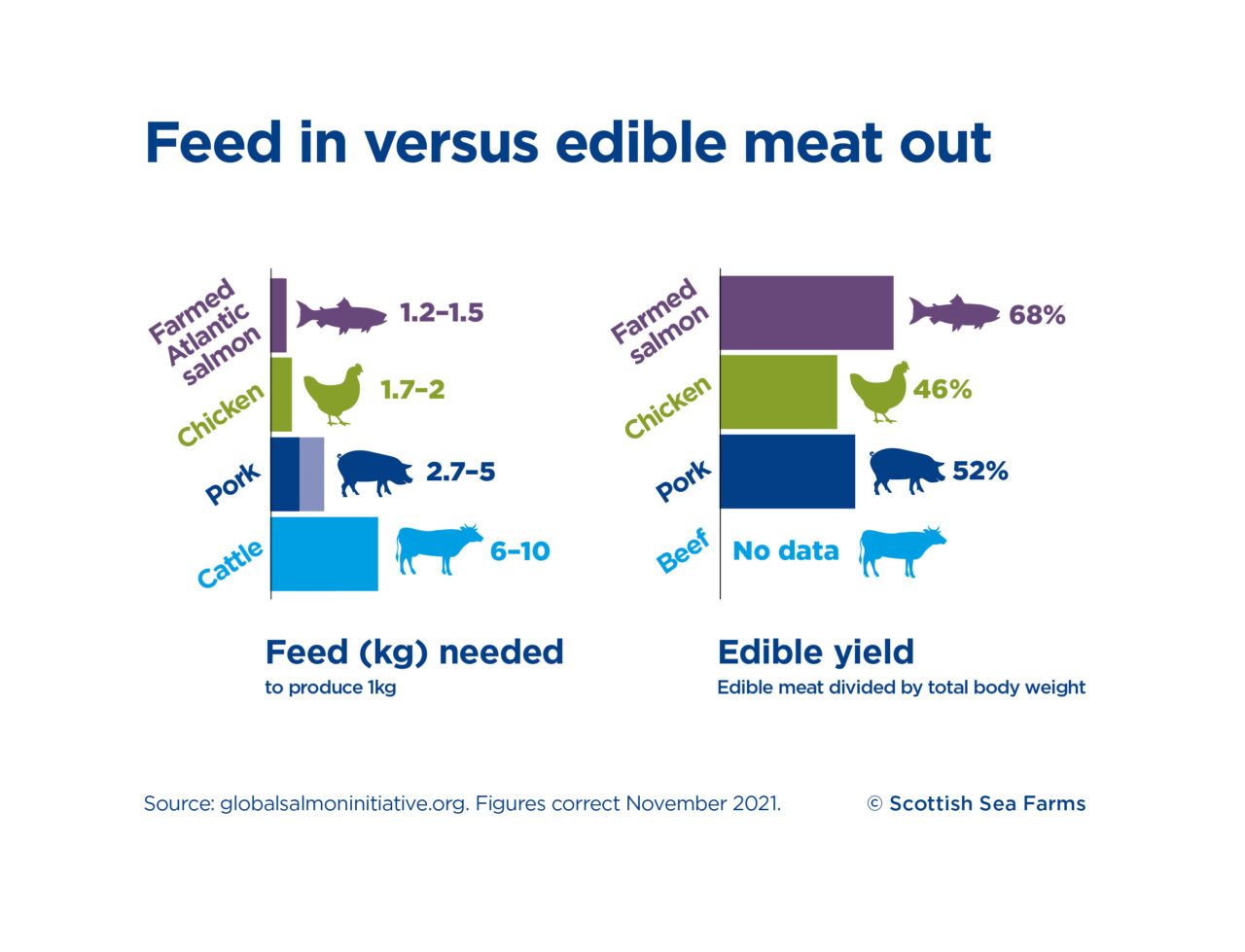 One of the most widely quoted measures when determining the sustainability of a particular farming method is to look at the feed conversion ratio (FCR) – the ratio of animal feed that goes in versus the weight of fish produced.
In the case of farmed salmon, this animal feed would contain fishmeal and fish oil.
Calculations by former IFFO Technical Director Andrew Jackson (2015) suggest that each kilo of wild fish used in farmed fish diets, including salmon, produces 4.5 kilos of farmed fish. That's currently amongst the highest return of any of the farming sectors.
Drilling down a stage further, a second key measure when assessing the efficiency of marine ingredient use to produce farmed salmon is what's known as the fish in fish out ratio (FIFO); the amount of wild fish used to produce each kilo of farmed salmon.
IFFO quote this as being 0.82:1 which would suggest that more farmed salmon are produced than wild fish used; a ratio reflective of the fact that salmon farmers now recognise the finite supply of fishmeal and fish oil and increasingly seek to introduce more plant-based ingredients into salmon diets.
You can read more about how these ratios were calculated here.
Responsible sourcing of raw ingredients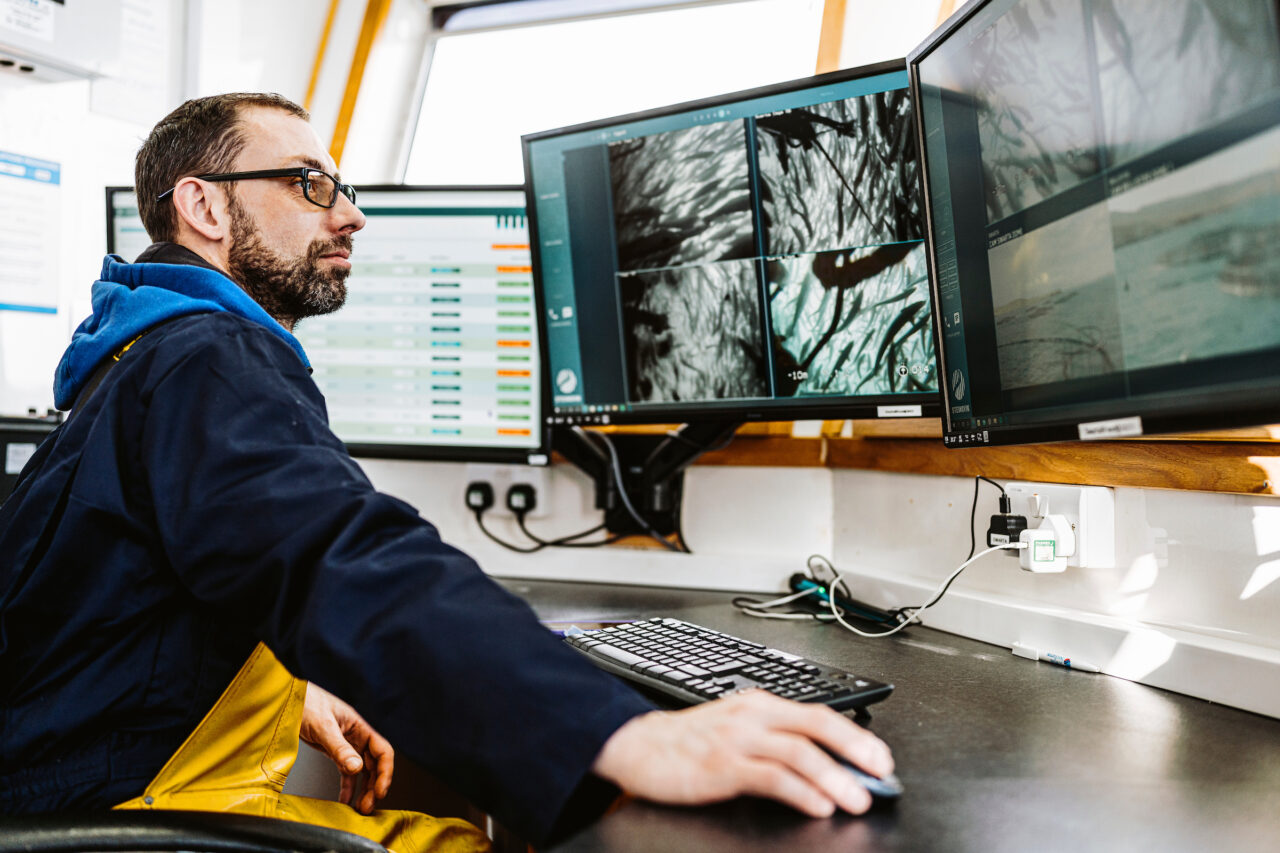 As part of our responsible sourcing of raw ingredients, we are members of NAPA (North Atlantic Pelagic Advocacy Group); a collective of retailers and supply-chain businesses committed to the sustainable management of fisheries, including a call for fishing quotas in coastal nations.
Testament to this, we have joined fellow members in urging the North East Atlantic Fisheries Commission (NEAFC) coastal states to agree quotas in line with scientific advice and implement long-term science-based management plans.
You can read our full statement of support below:
'Scottish Sea Farms is actively committed to working with supply chains to provide and maintain sustainable sources of raw materials. As such, we were disappointed, in 2019, when some North East Atlantic Fisheries lost their Marine Stewardship Council (MSC) certification.
'As a company, we will not purchase feed containing marine ingredients from non-certified fisheries, and are keen that the FIPs developed by NAPA are successful and lead these same fisheries to regain their MSC certification as quickly as possible.
'Should progress be delayed, or should the FIPs fail, we will maintain our position not to purchase feed containing marine ingredients from non-certified fisheries. Therefore, we urge the NEAFC coastal states to agree quotas in line with scientific advice and to implement long-term science-based management plans.
'We will continue to support NAPA, advocate for sustainable management of fisheries, and maintain our sourcing position regarding these matters.'