These difficulties don't just affect our farming activities but nearby homes and business too.
So over recent years, when we've been working to overcome the issue by replacing slow and unreliable systems with superfast broadband, we've looked to partner local groups and organisations and ensure that the wider community benefits too.
Case study 1: Knoydart and Loch Nevis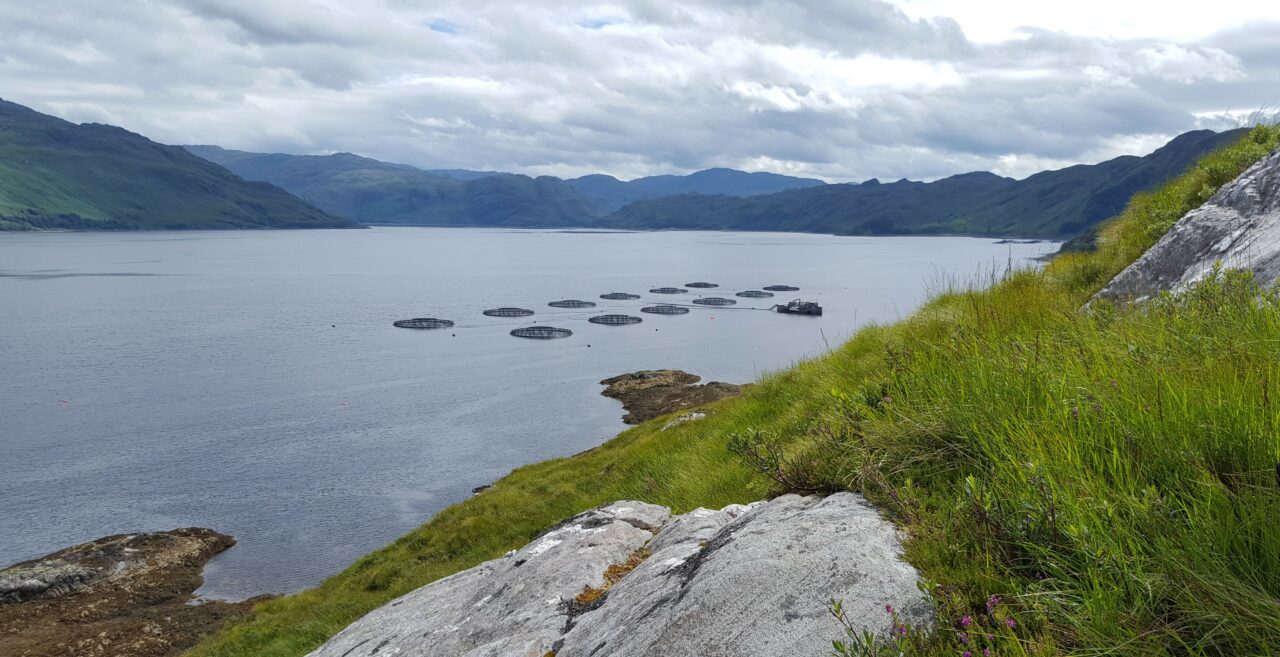 Previously, the area was served by an internet service that was struggling to cope with the increased demands being placed on it.
Similarly, the satellite system that Scottish Sea Farms was reliant on for internet access wasn't able to support the growing business need for high speed, high capacity connectivity between its three Loch Nevis farms and the shore base.
Together, Scottish Sea Farms and rural broadband company HebNet upgraded the local infrastructure with a state-of-the-art enterprise-grade wireless link between Skye and Knoydart capable of delivering superfast broadband of 30Mbit/s or more to end users, putting the area on a par with broadband provision in parts of central Scotland.
Adding to this, Scottish Sea Farms invested in a dedicated fibre optic connection, supplied by community internet service provider HUBS CIC, which links the core networks of both organisations, guaranteeing capacity, availability and quick resolution in the event of a fault.
For Scottish Sea Farms, the faster, more reliable solution has enabled each of the company's three Loch Nevis farms to be equipped with remote feeding and monitoring systems – a key advance in terms of ensuring that farmed salmon are fed as and when they instinctively want, regardless of weather.
For the wider community, the increased capacity makes things like smart-enabled TVs, gaming and live streaming applications such as YouTube, Netflix and Amazon Prime an everyday reality.
"By working with Scottish Sea Farms, who met well over 50% of those costs, we have been able to bring forward our own planned upgrades by as much as 12 months – something that will benefit local residents, businesses and tourists alike." Ian Bolas, Director at HebNet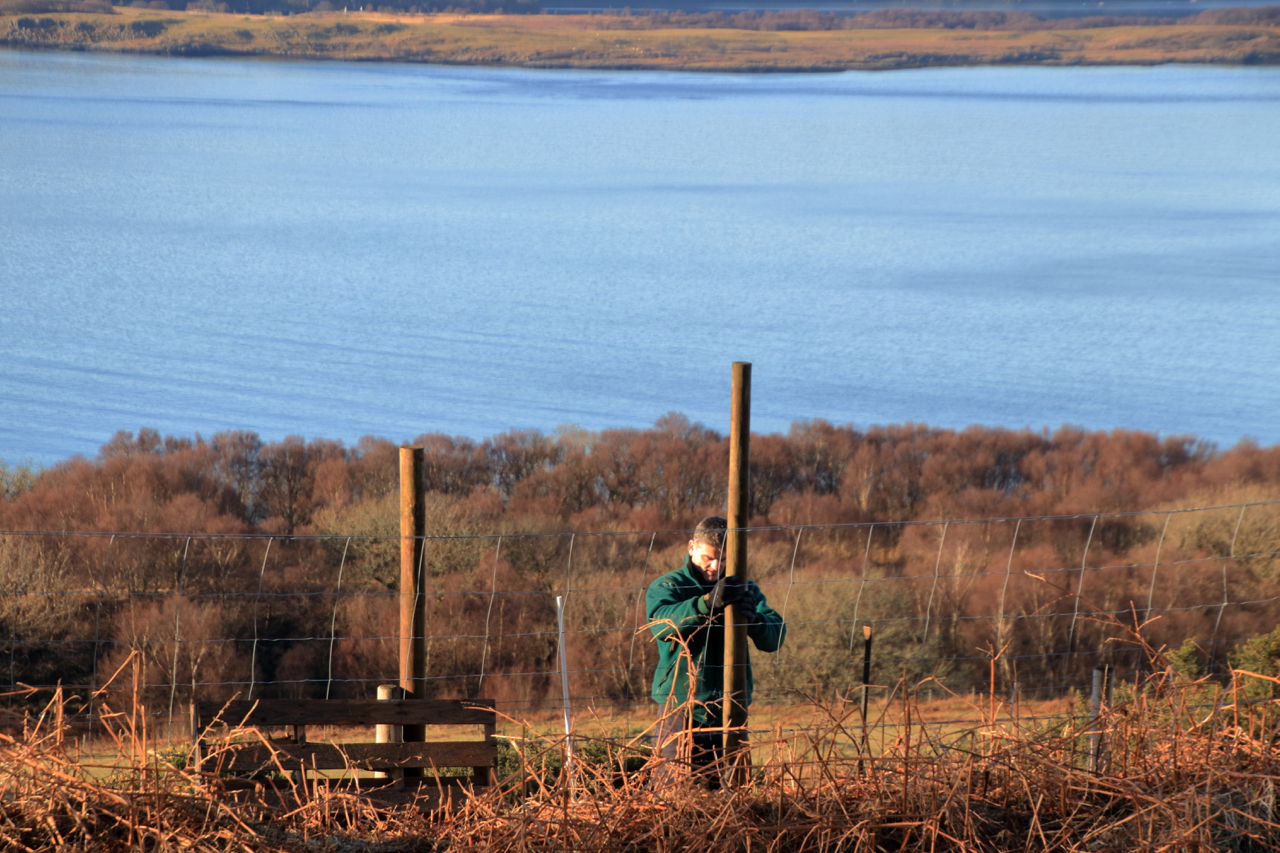 Described by some as 'the end of the road', Drimnin is tucked away at the end of 30 miles of a single-track road from the A861 in the West Highlands where it's home to just 57 properties, a village hall, a post office that's open twice a week and a whisky distillery.
Not included within any private or public sector plans for the roll-out of broadband in the foreseeable future, villagers had to contend with a slow, unreliable satellite connection that was subject to a delay more than 30 times slower than terrestrial systems, making it difficult to carry out everyday activities such as online banking, filing VAT returns, watching catch-up TV, installing anti-virus software or computer updates.
At the same time, Scottish Sea Farms was looking to enable remote feeding at its salmon farms around the Sound of Mull for those times when severe weather makes it unsafe to travel out by boat to the pens.
By joining forces, we successfully overcame the challenges of the local geography to deliver broadband.
While Drimnin may be remote by land it's just a few miles as the crow flies from Tobermory, meaning that a complex system of wireless radio links and repeaters would work, with the partners opting for the higher frequency band of 23 GHz to minimise any interference.
Scottish Sea Farms Senior IT Analyst and project leaders explained: 'Traditionally, a wireless radio link requires a direct line of sight. However the exposed location of some of our farms combined with the natural geography of the area meant this wasn't an option.
'Our proposed solution, in partnership with wireless specialists Rapier Systems, was to effectively 'bounce' the signal back and forth from different locations, but this was dependent on us securing permission to install the necessary masts and repeaters at the most suitable locations.
'Drimnin Community Broadband CIC proved instrumental in reaching out to businesses, both in the village itself and across on neighbouring Mull including Tobermory Harbour Association, Scottish Water and Ardnacross Farm situated near the waterworks.'
Local residents and businesses are now enjoying all the advantages of faster, more reliable broadband thanks to an enterprising collaboration with Scottish Sea Farms and other local partners.
"Now, we're able to do online banking, video conferencing, screen sharing – all the latest advances that make running a business a whole lot easier." Annabel Thomas, Ncn'ean Distillery
Repurposing redundant IT equipment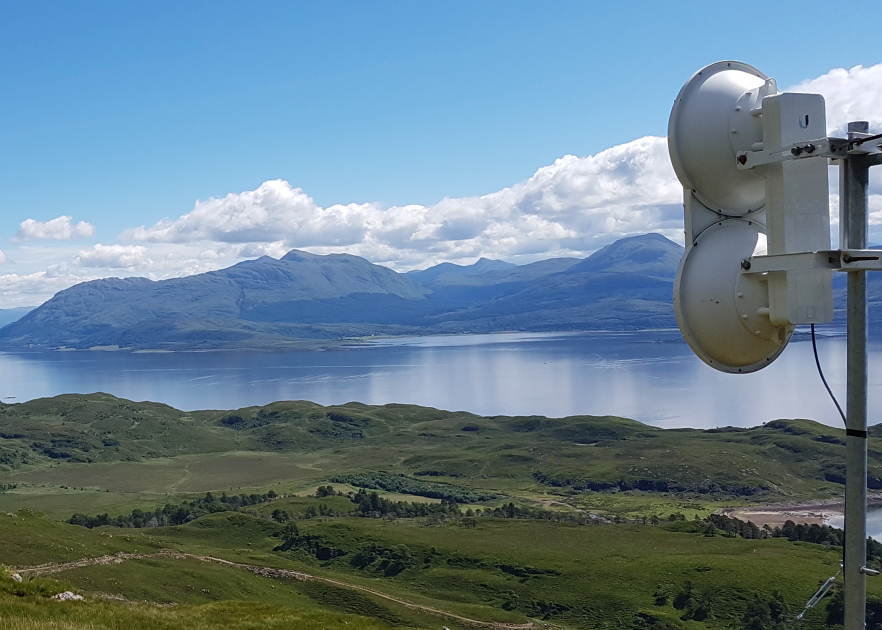 In addition to our work to help improve connectivity, we've also been donating redundant IT server racks and wi-fi satellite dishes to Locheilnet CIC – a broadband provider serving the Lochaber region.
Broadband in the area has been limited and in some of the more rural areas there was no network at all.
By putting satellites on the surrounding hills, and beaming signals from those, Locheilnet has been able to improve the connectivity of almost 500 businesses and homes across rural Lochaber.
A lifesaver for many reasons but especially with more and more people working from home.
"It has definitely been a lifesaver. A lot of people in remote locations had to work from home over the past year and that wouldn't have been possible without broadband." Ewen Leslie, Lochaber